Things that have never happened in the Miss 500 Tournament:
A redhead winner
A "Conor Marshall Rule" Winner
A winner  from the continent of Asia
30 votes for one contestant in one round
A cartoon bunny winner
A deceased winner
And until yesterday, and Miss 500's only shared distinction between itself and the NCAA besides the lack of appropriate compensation, a 16 Seed over a 1 Seed winner.
Enter…Felicity Jones
In 2014, Disney announced that in addition to the normal Star Wars trilogy lore films, three additional stand alone Anthology films would also be produced.  Of course this was met with high anticipation among the Nerd-gentsia.  First came cast leaks and we got even more excited, then came Star Wars Force Awakens, and expectations soared.  Then came the news of rewrites and refilms and worry set it.  Could the ultimate IP not pull off a Kessel Run in less than 12 parsecs?  But have no fear because what do rebels do?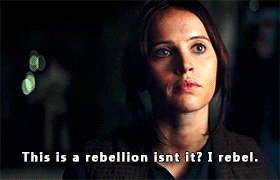 No fear, have you, for fear turns to hate and hate turns into the AHCA!  Or something like that.  Forget Portman's Amidala (much respect 2013 Miss 500) or Fischer's Leia (RIP) or even the great Ridley as Rey performance pulled off in the kinda in hindsight not THAT amazing Force Awakens.  Queen Felicity as Jyn Erso is forever.  Just like her band of blind, bulky, lonely misfits that assembled to steal the Death Star blueprints,  Felicity Jones went into Miss 500 in need of a (draft night) save and a whole lot of Force.  Luckily, Georgia Salpa was more than glad to step in as the Dark Side.  Emma Watson has long been banished from the Miss 500 Galaxy, but we have another key brunette British replacement to pick up her wizard stick and turn that sucker into a lightsaber.  Hell, there was even that time she actually "blew up a Death Star".
Queen Felcity not pulled off not only an upset in the best Star Wars movie (or at least the last 40 min of it are the greatest 40 min of any Star Wars movie ever), but also an upset in our hearts and minds in this year's tournament.  So despite your DRASTIC husband choice (Seriously, that guy? THAT GUY?!?!?!), here's to you 16 Seed Space Cindarella Felicity Jones!
May the 500 Be With You…